Training of Trainers (TOT)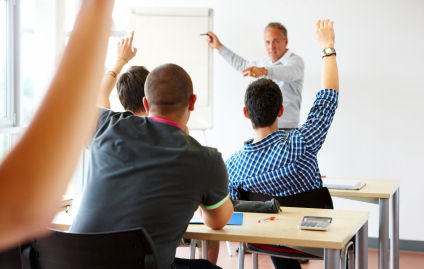 Being an effective trainer is a must skill in todays needs, we will help you to become a professional trainer with all the skills needed to effectively train and develop others.
You will be able to build robust training materials and we will learn you how to understand and co-operate with your audience group. This course will let you become a professionall trainer.
We work closely with clients to train in-company trainers or team leaders to be facilitators of learning and transfer the lessons to the participants of the tailor made programs.
This program will enable the client to build in-house capacity for delivering training as per standard training methodologies.
Training of trainers includes a psychology of adult learner, the planning of training programs, arrangements for the training venue as well as training delivery skills and methodologies.
It is vital that trainers have an in-depth of relating learning objectives to their delivery skills and relate each training methodology to the objectives. trainers who get the ToT will get into practical sessions to get full competency on using various training methodologies in the right way.
The modern training approaches of interactive learning is commonly used, but what we help our participants with is in fact is to get in-depth knowledge of choosing the right approach for the right subject. Besides, they will become trainers who realize not only the delivery skills, but a full
competency-based
learning solution.
Why You Should Attend:
• Learn the basics of adult learning theory and instructional design methodology.
• Learn how to train workers and employees in a real work environment.
• Gain a foundation in conducting a needs assessment, developing learning objectives.
• Evaluating the impact of your training initiatives.
• Learn and apply effective training techniques for managing participants.
• Engaging a variety of learning styles.
• Creating an effective positive learning environment, and managing classroom challenges.
• Develop engaging training solutions that are learner-centered.